Girls' Swim and Dive
Coaches
Head Coach: Dan Schneider, 651-457-8806 or daniel.schneider@isd194.org
Diving Coach: Derek Moulton, moultonlava.usmc@yahoo.com, Cell: 612-708-6557
Middle School: Phil Smith, 612-242-9062
2017 Season Info/Team Info
Thank you to those who attended the try on Tuesday night. If you have not ordered yuur suit yet please be aware that there is an ordering window from July 11 - July 24th. This allows for all items to be delivered in a timely matter and into your hands at the opening potluck on Wednesday, August 16th.
Please note Lakeville North and South will be ordering the same suit from last year so if yours still fits you can use it. NORTH swimmers and divers who were unable to make the try on please contact Georgia Anderson at 651-605-1248 as she has samples of all North apparel.
Captain's practices will be held at Ritter Farm from 9:00-11:00 am Monday-Thursday starting Monday, August 7th. Please bring a water bottle, towel, and be ready to work out. Follow the dirt road all the way back to the brick silo. Any kids needing rides can reach out to any of the captains listed below or other upperclassmen. On Friday, August 11th the girls will go to Apple Valley Water Park with South for a fun team bonding day from 11:00-3:00.
Fundraisers
Please mark your calendars for Sunday, August 20th. This is when we will be having our Babe's Fundraiser and we need all of you to make this a success. It is never to early for you start asking around for donations for our silent auction. Another piece of the fundraiser is for ALL families to purchase 10 tickets to be sold to family and friends for this big event. It is up to you to sell them. Checks can be made out to Lakeville Swim and Dive.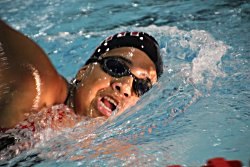 Meet Photos
If you have meet photos to share, please email Wendy Wulff to have them linked here.
Middle School Swimming
Lakeville Middle School Swimming is being hosted by the Storm Swim Club. This offering is aimed at new swimmers who want to experience it without the commitment level of a varsity level offering. The group practices after school at McGuire Middle School and a shuttle bus provided. Practice is 1.5 hours a night Monday - Thursday and begins after Thanksgiving Break for the Boys team, and After Labor Day for the Girls Team. Girls only in the Fall, Boys in the Winter and both in the Spring.
For more info, go to www.mnstorm.org.