News Releases
Lakeville Takes First in the Panther Relays
Remains Undefeated in the Lake Conference
9/18/05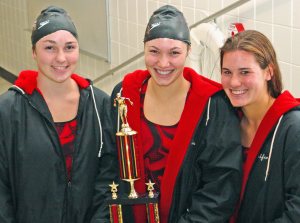 The Lakeville Girls Swim Dive team hosted 13 teams at the Panther Relays and swam to first place with 142 points, Northfield second, 110 points, Prior Lake third, 108 points and Red Wing fourth, 105 points and Mankato West fifth, 101 points.
The Faribault divers set the old relay record for diving with a score of 503.8 points. Lakeville divers (Hillary Provo, Danielle Dove and Kalli Pahl) were second with 471.55
The Lakeville swimmers used their depth across all events by placing in first, second, third or fourth in each event. Lakeville had 2 firsts, 5 seconds, 2 thirds and 1 fourth.
The second place 200 Yard Medley Relay, made up of Natasha Knack, Danielle James, Rachel Ringeisen, and Wendy Consoer had a time of 1:58.82. The next event, 3 X 200, had Lakeville taking third with a time of 6:24.38. The relay team was made up of Elizabeth Kleiner, Lindsey Hickman and Gillian Stepp. In the 3 X 100 Medley Relay Melissa McMahon, James and Stephanie Korba swam to first place in the 3 X 100 Medley Relay with a time of 3:16.15. The first half of the meet ended with the 200 Free Relay of Natalie Herrild, Consoer, Ringeisen and McMahon finishing fourth with a time of 1:47.49. Lakeville claimed their second first place finish of the meet with a 2:36.47 swam by Ringeisen, Jennifer Titcomb and Korba in the 250 Butterfly Relay. The 850 Cresendo Relay team, Becky Newgren, Consoer, Stepp and Kleiner, claimed second with a time of 9:09.52 behind Rochester Century.
The Lakeville relay backstrokers, Knack, Hickman and Korba took second in the 3 X 100 Backstroke Relay with a time of 3:14.30 and the 3 X 100 Breast Stroke Relay team of James, Adrianne Koncur and Stepp finished a close second, .98 seconds behind Prior Lake. The Lakeville 400 Free Relay team, Kleiner, Herrild, Hickman and McMahon completed the day by swimming to a third place finish with a time of 3:55.39.
On Thursday this past week Lakeville competed at Apple Valley in a Lake Conference dual meet and won 99 – 78 over a much improved Apple Valley team. Coach Rick Ringeisen said "Apple Valley gave us an eye opening scare last Thursday evening. Apple Valley's coach crafted an excellent line up placing her athletes where they could do the most damage early on in the meet".
Just as it look as if Lakeville was on the run. Gillian Stepp and Danielle James placed first and second in the IM to stop the Apple Valley momentum. In the next event, the 50 Yard Freestyle, Apple Valley bounced back with Jimilla Edwards dusting the other swimmers by taking first place. Lakeville's depth was evident although as Melissa McMahon, Wendy Consoer and Natalie Herrild finished in second, third and fourth to outscore Apple Valley and turn the momentum of the meet towards Lakeville.
The Lakeville divers expanded Lakeville's small lead with excellent diving by Hillary Provo, Danielle Dove and Tiegan Shreve as they finished 1-3-5.
After a few line up adjustments by Coach Ringeisen, Lakeville came out of the break a different team. Lakeville started the second half by sweeping the 100 Butterfly.
Coach Ringeisen said "From that point on we just powered up and started to race". He added that the biggest highlight of the meet was watching Danielle James come from behind to win the 100 Breaststroke and in doing so swim a life time best time of 1:11.37.
Lakeville's continues their Lake Conference dual meet schedule on Thursday with a home at Bloomington Kennedy and will compete Saturday in the Minneapolis South Invitational at the University of Minnesota Aquatic Center.
Lakeville Girls Swim and Dive Begins Lake Conference
9/1/05
The Lakeville Girls Swim and Dive team, "The Cats" opened their Lake Conference season with a decisive victory over Bloomington Jefferson Jaguars, 97 - 81.
Right from the beginning Lakeville took control of the meet and cruised to victory. Lakeville again started the meet with a 1st and 2nd place finish in the 200 yard Medley Relay and followed with a sweep of the 200 yard freestyle.
There were many meet highlights for Lakeville. All-State diver Hillary Provo performed her season best with a 1st place score of 224.25, while Lakeville's double individual winners Elizabeth Kleiner and Gillian Stepp help pace Lakeville to victory. Kleiner was 1st in the 200 Freestyle with a time of 2:07.60, and the 100 Freestyle with a time of 59.24. Stepp was 1st in the 200 IM and the 500 Freestyle with times of 2.19.64 and 5:29.34 respectively.
Coach Ringeisen pointed out outstanding performances were turned in by Natalie Herrild with a 3rd place in the 200 Freestyle (2:13.71), Wendy Consoer had a 1st place in the 50 Freestyle (26.63) and Rebekah Schieck swam to a 4th place in the 50 Freestyle(27.86). Jennifer Titcomb added a 1st place in the 100 Butterfly (1:06.42); Stephanie Korba had a 1st place in the 100 Backstroke (1:03.64). Danielle James and Melissa McMahon finished 1st and 2nd in the 100 Breaststroke. James' and McMahon's time was 1:12.24 and 1:12.93.
Ringeisen noted that he was pleased overall with the team's effort at tonight's meet. However, he went on to say "We do have many little technical items to clean up in practice. Once the team gets in shape doing the little things right, it will become second nature and the team will be able to reach its potential."
Two Cats - One Team
Lakeville Starts Swim Dive Season
8/30/05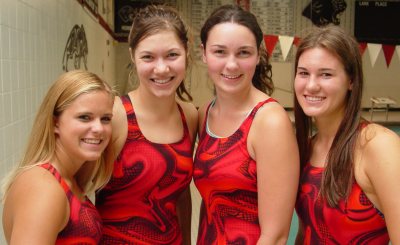 Captains (L/R): Hillary Provo, Phaedra Howe, Katie Lang, Jennifer Titcomb
Lakeville Girls Swimming & Diving will take on a new look this season as the Lakeville North Panthers and Lakeville South Cougars combine into a cooperative team for the regular season. However, at the end of the season the two teams will split into two teams for section and state meet competition. As a result, this year the team has taken on the slogan, "Two Cats One Team&quot'.
In the 2005 opener the Lakeville girls traveled to Austin and put together a total team effort defeating Austin 97 to 84. Coach Ringeisen noted that there were many positives to be encouraged and enough rough spots to work out in practice. Ringeisen said the he was extremely pleased with the outstanding performances by the junior varsity team!
Lakeville started out the meet by placing first and second in the Medley Relay. Stephanie Korba, Gillian Stepp, Rachel Ringeisen and Natalie Herrild swam in the 1st place team and Natasha Knack, Danielle James, Jennifer Titcomb and Rebekah Schieck swam in the 2nd place team. Lakeville continued their dominance by taking 1st place in 9 of the next 11 events. Coach Ringeisen pointed out Senior Captain, Phaedra Howe opening the season with three lifetime best times! And seventh grade sensation, Elizabeth Kleiner taking first place in the 500 Freestyle with a time of 5:35.37.
The Lakeville girls swim and dive team continues their season by hosting Lake Conference foe Bloomington Jefferson Jaguars Thursday September 1st at the Kenwood and McGuire Middle School pools.